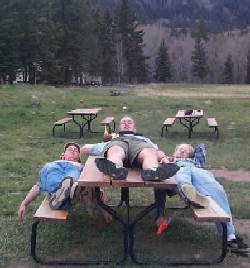 Yes, it had been a wonderful time. All of us were very fat and happy, and didn't have much to say anymore. We just lay down and basked in the beauty of what had just transpired. This is a moment between men where we shared our weaknesses opening.
"I'm fat," I announced openly.
"I'm fat," Jason announced openly.
"I'm fat," Dan announced openly.
"No you're not," I announced openly.
"Oh," announced Dan rather sheepishly.
We had all eaten well, and we were all fed. I got a good nights sleep. Jason didn't touch me, and the next day I was married. It was a full week, and I still feel full, and every day, my gut hangs further in memory of that beautiful animal.