Escape from Anathema Mines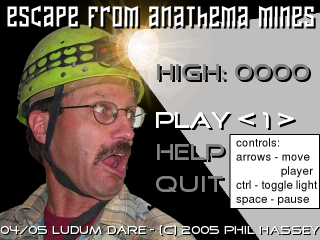 Ludum Dare - April 2005
This was my second Ludum Dare contest. This one was hosted at http://www.mechanicalcat.net/tech/ld48/6/.
You can see my contest diary here.
Enhanced Edition - Download
During the week after the contest I fixed a multitude of small bugs, and added a multitude of small enhancements.
Please try it out: pygame | windows.
Enhanced Edition - Changes
added 3 new levels -- varying from easy to hard, 8 levels total now
added 3 different dying effects -- see screenshots below
added level status in corner
improved sound effects
optimized painting
fixed level 5 (now level 7) is too hard
fixed path finding not optimal
fixed guards can shoot through walls
fixed wall texturizing not always right
fixed corners are not solid
fixed player doesn't walk straight
fixed player doesn't light up in guard's flashlight
fixed light casts through walls
Screenshots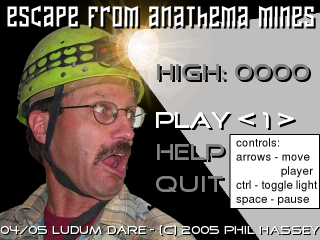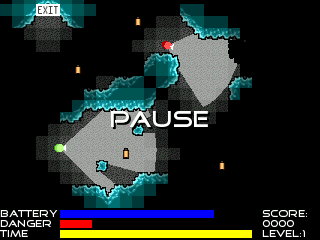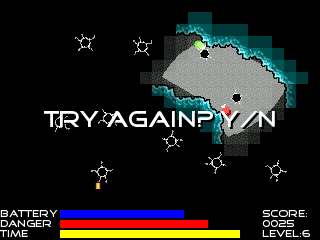 Post-Mortem
This year I spent around 2 hours planning before I actually started writing my game. I also bounced ideas around with some friends to come up with a really good game concept. I believe spending this time planning before actually creating really helped out in the fun factor this year. Last year my fun score was fairly low.
I used pygame again this year to great success. It was easy to get my game up and running and working quite nicely by the time the contest came around. I also used my own level and tile editors, which helped save a good deal of time. I also was able to use my MR-8 for recording sound effects, ModPlug and n-track for creating the music. I was quite pleased with the quality of audio I was able to create in about 2 hours. I also utilized friends to do play testing. This also helped in the fun factor, as I was able to get some good feedback on what parts of the game were fun, what levels were too hard, etc. I was also pleased to have enough time to create 5 levels for the contest, giving my game a fairly complete feel.
For next time, I am interested in learning a 3-D kit so that I can do fancier graphics. My game would have still been a 2-D game, but with the added light effects, I think that would have helped my production.
The Good
Prep: I made sure all my tools were installed and working before the contest
Planning: gave me considrable direction and a better starting idea
Tools: pygame, pgu (level and tile editors), ModPlug, n-track, Audacity
Windows: knowing how to use py2exe
Testing: Having lots of it. Game play came out good, and no critical bugs were in the contest edition.
Time: Managing time from most important features to least
The Bad
Tools: wish I had 3-D tool knowledge to do my lighting effects and hi-res graphics.
Testing and Time: wish I had more time to do more to weed out the last few non-critical bugs, but you can only do so much in 48 hours.
I enjoyed this year's contest even more than last years. I am really enjoying trying out everyone's games, and I'm learning a lot on what I can do to improve my game making skills.
Special Thanks
Lyn - for being my poster child, and some testing
Tim - for being my primary tester
Dan - for being my backup tester
richard - for hosting the contest
#ludumdare - I had a great time, special "hoo rahs" to those who participated in the 2.5 hour mini "Road Trip" contest.




All content of
imitation pickles
(c) 1999-2008
-
Phil Hassey
"we care"